Tetris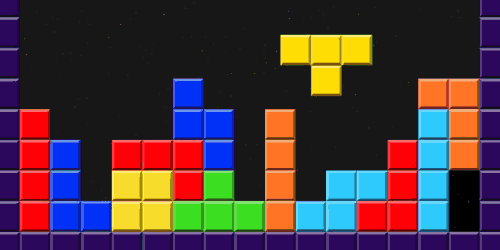 Tetris is a simple logical electronic 2D arcade game with vertically placed playing area. Tetris game is inspired by the theme of the Pentomino board game and was first released by Russian academic Alexei Pažitnov on June 6, 1984. Tetris in various versions has achieved worldwide expansion and availability on all known platforms. Since 1996, all licensed Tetris games must meet the Tetris specifications published by Tetris company.
Gameplay
The tetris game design is based on falling blocks of different geometric shape consisting of 4 interconnected square blocks. Such block fall one by one in a limited vertical play area and the player has the ability to move each block in two degrees of freedom during its movement - sideways movement (left, right, speed up fall) and rotation. Player's goal is to navigate and place each block in such way to achieve creation of a line of block through entire width of the game are without any gap - which results in elimination of the line of blocks, released free space for next blocks and adding scores on basis of number of eliminated lines at once. There is possible to remove from 1 to 4 lines with 1 placed block while removing 4 lines at once is called "Tetris".
History of Tetris game
The beginning of the Tetris game is associated with the name of Russian software engineer Alexey Pajitnov and his work at the computer center at the Academy of Sciences in Moscow in 1984. The first playable version of the game was released on June 6 of the same year. Its name consists of a pair of words - from the Greek numerical prefix tetra (= 4 segments creating each falling piece) and tennis (Pajitnova favorite sport). Tetris is also referred as the name of a move when 4 lines of blocks are deleted simultaneously by placing a vertically located 4 blocks long piece.
Achievements of the Tetris game
Tetris game was first game spreaded from the Soviet Union to the United States. Because of its simplicity, it has also become available in all conceivable devices, including graphing calculators and various media players. With the GameBoy version released in 1989, Tetris has become the second most downloaded paid app (over 170 million units sold). Themost downloaded paid app is Minecraft.
Variants of the Tetris game
Astris - Tetris in Modern format for mobile phones
Lemris - Tetris game extended for lemmings from Lemmings soup series
Yetris - Variant of Tetris game running in the command line of Windows and Linux devices
Tetris 2 - Variant of Tetris game designed for playing in 2 players
Tetris 99 - Variant of Tetris game designed for playing in 99 players
Galois - Variant of Tetris game with falling elements of variant shapes such as triangles
Letris - Tetris blocs are extended for letters, a player composed words while playing Tetris
Archeomania - Tetris extended for survival mission of a need to remove elements to survive a girl before falling weight
Welltris - Tetris in 3D
Blockout - 3D Tetris with many variants of playing
Tetris Friends - Only official flash version of Tetris game. The game has had implemented a feature allowing comparison of achieved score between friends.
Tetris online
Tetris playable online right in the browser, without need of installation. Online Tetris games are accessible on this page, through PC as well as mobile. Tetris games are made in various variants with different environment and gameplay.
Tetris Unblocked
You may come into a state when some Tetris game from our selection will be blocked in your device. This blockation is most likely due to blockation made by administrator of the network you are connecting from. All Tetris games accessible on this page have been tested in independent network, on independent device and should be playable without any limitation.